Product Description
Rasberry pi + Wirepas BLE Dongle is designed as simple and open wirepas gateway solution.
Among them Rasberry Pi is the latest product in the popular Rasberry Pi range of computers. It 
offers ground-breaking increases in processor speed, multimedia performance, memory and 
connectivity compared to the prior-generation Raspberry Pi 3 Model B+, While retaining backwards
compatibility and similar power comsumption.
Features
A high-prefromace 64-bit quad-core processor

Dual display support with resolutions up to 4K via a pair of micro-HDMI ports

Hardware video decoding up to 4Kp60

4GB of RAM

A connection to the dual-band wireless local area network 2.4/5.0 GHz

Bluetooth 5.0 / Gigabit Ethernet /USB 3.0 /PoE features (via a separate HAT PoE add-on module)
Specifications
Processor core
Broadcom BCM271
Processor speed
Cortex-A72 1.5GHz
Memory
4GB
Networking
Ethernet RJ45 10/100/1000 Mbit/s
802.11 b/g/n/ac/2.4/5 GHz
Single BLE Dongle 5
Connectivity
2 x USB 2.0 / 2 x USB 3.0
HDMI
MicroSD
Power
DC 5V via USB-C
Certifications
CE, FCC/CSA
Temperature Range
-25°C to 65°C
Dimensions & Weight
85.6 x 56.5 x 17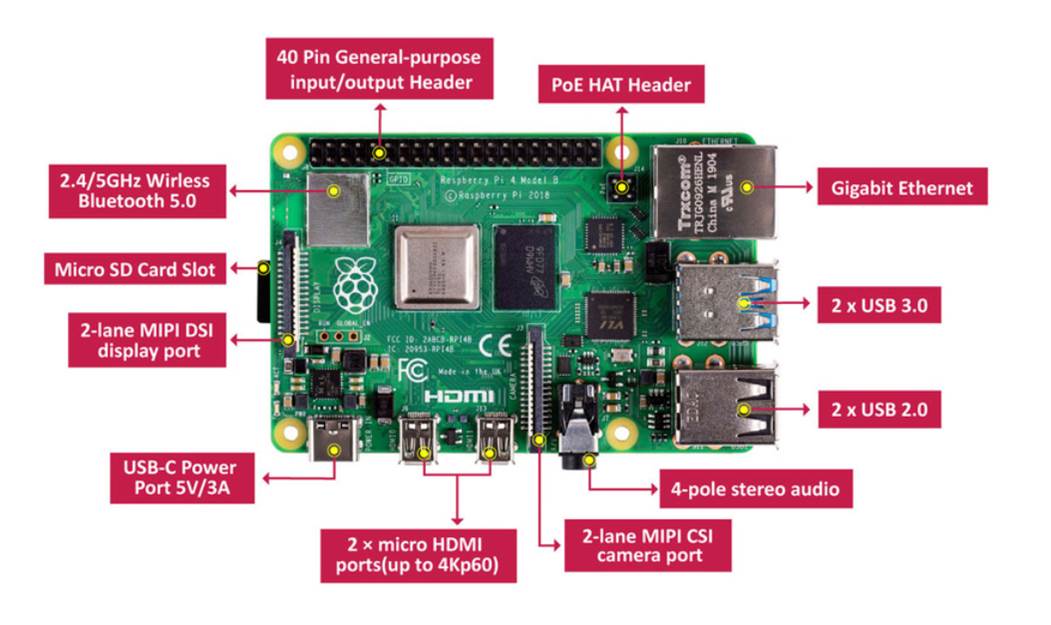 Contact Us
SIoT Business Division
Good Way Technology Co., Ltd. (Taiwan)

3F, No. 135, Ln. 235, Baociao Rd., Sindian Dist., New Taipei City 231, Taiwan
Phones
Sales: +886-2-89191200
Email Addresses